Add your voice to conversation if you agree that access to all published works—regardless of format—must equitably balance the rights and privileges of readers, authors, and publishers.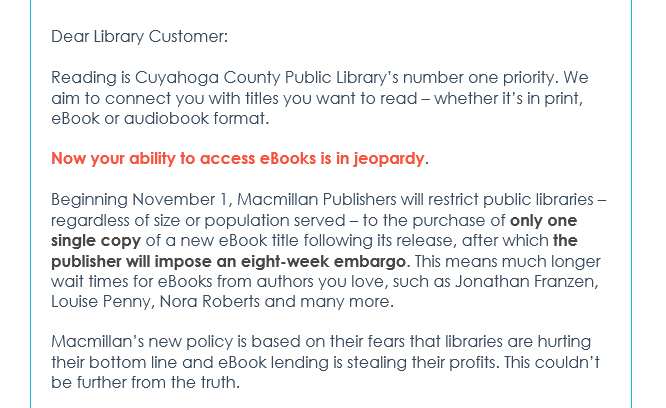 Social media channels provide a place where libraries, library users, and others can share the work they are doing and the issues they care about – and reinforce relationships with decision makers and the communities they represent. Facebook, Twitter, YouTube, and Instagram are perfectly designed for communicating creatively with our elected officials.
The following examples can be edited and posted to either your personal page, or if you represent a library, then on your library pages and sites.
Twitter:
.@MacmillanUSA is trying to limit your access to eBooks via your [@PublicLibrary]. Join @ALAlibrary & libraries across the country in opposing their new policy, scheduled to begin Nov 1. Sign the #eBooksForAll petition now: eBooksForAll.org
Facebook:
Macmillan Publishers is trying to limit your access to eBooks via your [insert your public FB link library here]. Join libraries across the country to oppose their new policy scheduled to begin November 1. Sign the #eBooksForAll petition now, and tell Macmillan that access to eBooks should not be delayed or denied: eBooksForAll.org
Linked In:
Please stand with me to oppose @MacmillanUsa limiting your access to eBooks via your public library. Join @ALAlibrary & libraries across the country in opposing their new policy, scheduled to begin Nov 1st. Sign the #eBooksForAll petition: eBooksForAll.org
Libraries Transform Because Statements

Quotes from ALA President Wanda Brown